Could corrugated PVC panels be a better solution than metal siding for use on poultry houses?
Could it easily be used to replace worn and corroded metal siding? Could PVC offer any performance advantages? These were questions being asked by Auburn University's National Poultry Technology Center.

The mission of the NPTC at Auburn University is to improve bottom line profitability of the live production sector of the US poultry industry by providing timely applied research and education resulting in increased efficiencies in housing, equipment, energy and environmental control. So when they asked us to get involved and provide Ag-Tuf® UV corrugated PVC panels for a trial and test that would answer the questions posed above, we jumped at the chance.
Auburn University and the NTPC is careful not to make any

specific product recommendations or endorsements, but we're happy to know that their experiments included our Ag-Tuf UV products, so it kind of takes the guesswork out of things.
"Repairing Corroded Sidewall Metal"
Written by: Dennis Brothers, Poultry Housing Specialist,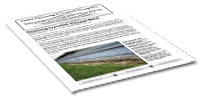 National Poultry Technology Institute, Auburn University
This issue of the NPTC newsletter gives a great overview of the benefits of using corrugated PVC panels to replace worn corrugated metal panels.
Easy, clean & bright Liner Panels for Agriculture, inside and out.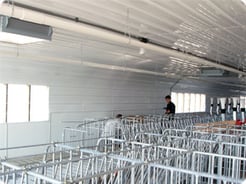 AG-Tuf PVC liner panels are a clean and bright option for interiors, while AG-Tuf UV is designed for exterior use, standing up to sunlight and maintaning its bright white appearance. AG-Tuf corrugated PVC liner panel allows efficient cladding of interior structures with many benefits for all types of agricultural professionals. From hog barns to dairy sheds, from poultry houses to wineries and more, AG-Tuf and AG-Tuf UV hold up where other products won't.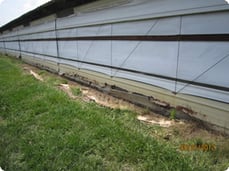 Ag-Tuf's resistance to chemicals allows for frequent cleaning and sanitary maintenance, as well as extended service in harsh chemical environments. AG-Tuf panels are extremely easy to install and maintain using ordinary tools, while preserving its attractive glossy appearance over a long period of time.